Cleanflix (2009) is the first episode of Instant Discussions on Magic Ape TV, published on January 28th, 2013.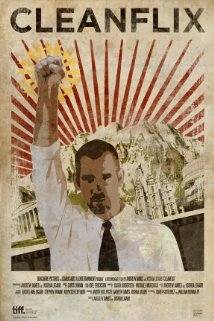 This was John's first pick. John was inspired to create Instant Discussions after watching this movie because he felt it needed more than just a simple review but rather needed to be discussed.
Watch the Episode
Edit
About the Movie
Edit
Cleanflix is a documentary about a Utah-based movie rental business that edited films so they would be appropriate for Mormon viewers.
Special Guest - Rachelle Rae Romero
Edit
Rachelle is an actress and grew up in the Church of Jesus Christ of Later Day Saints, commonly referred to as the Mormon church, and was asked to guest on this episode to bring additional insight on the topic of censorship as it relates to the LDS church.
This episode pre-dates the use of star ratings on Instant Discussions.
Technical Difficulties
Edit
Due to a camera failure, at 21:56 the YouTube video only broadcasts the audio with a "Technical Difficulties" slate.
External Links
Edit
Instant Discussions - Episode 1 - Cleanflix: http://youtu.be/-8MD-17bxyU
Podcast: http://archive.org/download/InstantDiscussions-Episode1-Cleanflix/InstantDiscussions001.m4a
Cleanflix on IMDb: http://www.imdb.com/title/tt1007026/
Community content is available under
CC-BY-SA
unless otherwise noted.